Reddy™

natural dwarf
Salvia splendens
Just like Limbo and Mambo petunia, Salvia Reddy™ is the only genetic dwarf, non-stretching Salvia variety on the market. Salvia Reddy has proven to be of great value to growers, retailers and consumers. Plant growth regulators (PGRs) are not necessary. This made growers understand how, using Salvia Reddy would enable them to take a step forward in environmentally conscious growing. Because Reddy refuses to stretch, there is no need to use growth regulators. This makes Reddy the perfect Salvia for plug and pack production. Another advantage is the much longer shelf life throughout the whole chain. Reddy produces a large number of densely placed bright colored flowers above dark green foliage. It is day length neutral and performs splendidly in the garden. Reddy white surprise is a Fleuroselect Approved Novelty.
---

No need for plant growth regulators (PGRs)

---

Non-stretching plant habit

---

Early flowering and uniform plant habit

---

Dark green foliage

---

Excellent seed quality

---

No need of PGRs enables ECO friendly production

---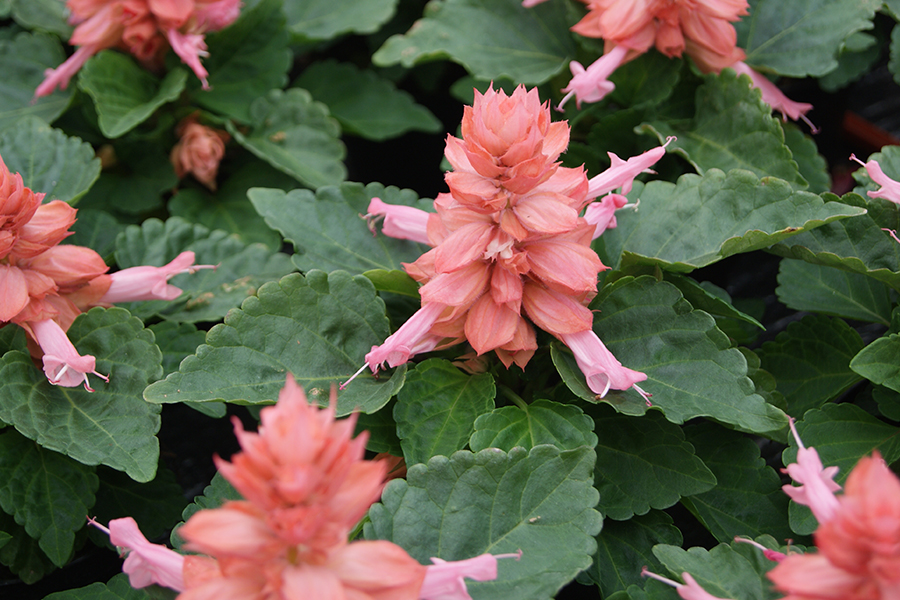 Details:
| | |
| --- | --- |
| Life cycle: | annual |
| Use: | outdoor containers, pots and packs, suitable for landscape beds and garden, hanging baskets |
| Height in pot: | 10-15 cm (4-6 in.) |
| Garden height: | 20-25 cm (8-10 in.) |
| Garden width: | 20-25 cm (8-10 in.) |
| Seed count: | 250-300 S/gram, (7,090-8,500 S/oz) |
| Seed form: | normal |
| Germination rate: | 85% |
Hem Genetics is a member of these branch organizations.